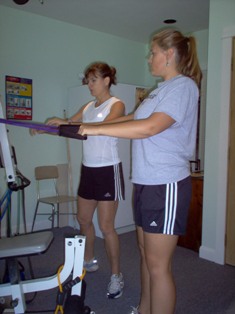 Katie Savage
Katie Savage has been a certified Personal Trainer since 1997 through the American Council on Exercise (ACE) and is CPR Certified. She has coached high school track and field, cross country and has been a competitive cyclist and tri-athlete. Katie continues her education through ACE workshops and seminars.
Trusted and Knowledgeable Personal Trainer
Personal Trainer since 1997
Continuing education through ACE certified classes
Worked with athletes all her life
Worked with children, adults, and seniors meeting their exercise needs
Works with all ages and body types
An athlete herself
Patient, reliable, and knowledgeable
Works with clients with disabilities
Specializing in balance, coordination, pre and post natal mothers, endurance, cycling, rehabilitation, age related improvements, and weight loss.